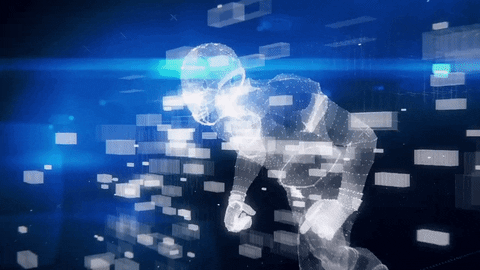 Hello everyone, it's that time of year for the NFL Draft! Some of these players could help lead the next generation of players, or could end up being a bag of crickets. While there  is no 'Andrew Luck'  type standout in this draft class, the depth in this years Quarterback class is deep, diverse, and is worthy of recognition. We have a lot of potential at the running back position especially in Saquon Barkley and plenty of depth at each position to evaluate. I stongly believe there will be day 1 starters at both positions. I'm still a little skeptical about the receivers in this class, but, Calvin Ridley looks like he could to be the second coming of Amari Cooper. In this analysis, I am looking to identify the top players at each position in hopes to shed light to up and coming NFL rookie class of 2018.
---
|Quarterbacks|
Baker Mayfield

Mayfield is one of two Heisman-winning QBs available in this draft, and he's expected to go ahead of the 2016 winner, Lamar Jackson, though not by much. Here's the skinny: If Mayfield was two inches taller, he may be the consensus #1 overall pick in this draft, and many feel that he should be anyway despite his 6'0" frame.Of the top five QBs in this class, he played in the least "pro-style" offense. And most notably, he had a much-publicized incident in 2017 when he was seen taunting an opponent by grabbing his crotch.
Mayfield eventually started three full years for the Sooners after dealing with injuries in 2014. He never threw more than 8 INT, never threw fewer than 36 TD, and completed over 70% of his passes in each of his last two seasons. Additionally, he ran for 1083 yards and 21 TDs in college, so he can make plays with his legs, though he's not an explosive athlete like Russell Wilson. His size, movement ability, and off-field attitude have earned him some comps to Johnny Manziel, but the fact of the matter is Mayfield is just a way better passer . He has the best accuracy and the best touch on his throws out of anyone in this QB class.
Mayfield has a sick, accurate arm with a really quick delivery, one that produced an astonishing 11 YPA in each of his last two seasons. Yes, that's eleven yards per attempt. Mayfield's mechanics can be sloppy, but it becomes a philosophical question. He only makes it to his second read on passing plays and rarely approaches his third read in the passing game. Occasionally, Mayfield will try to do too much
(some say  Sam Darnold  has the same issue), and that's something that will require coaching. For now, Tyrod Taylor remains the starter and rightfully so. If baker can sit a year like Patrick Mahomes did last season, he can become a sick prospect in Cleveland.
---
Sam Darnold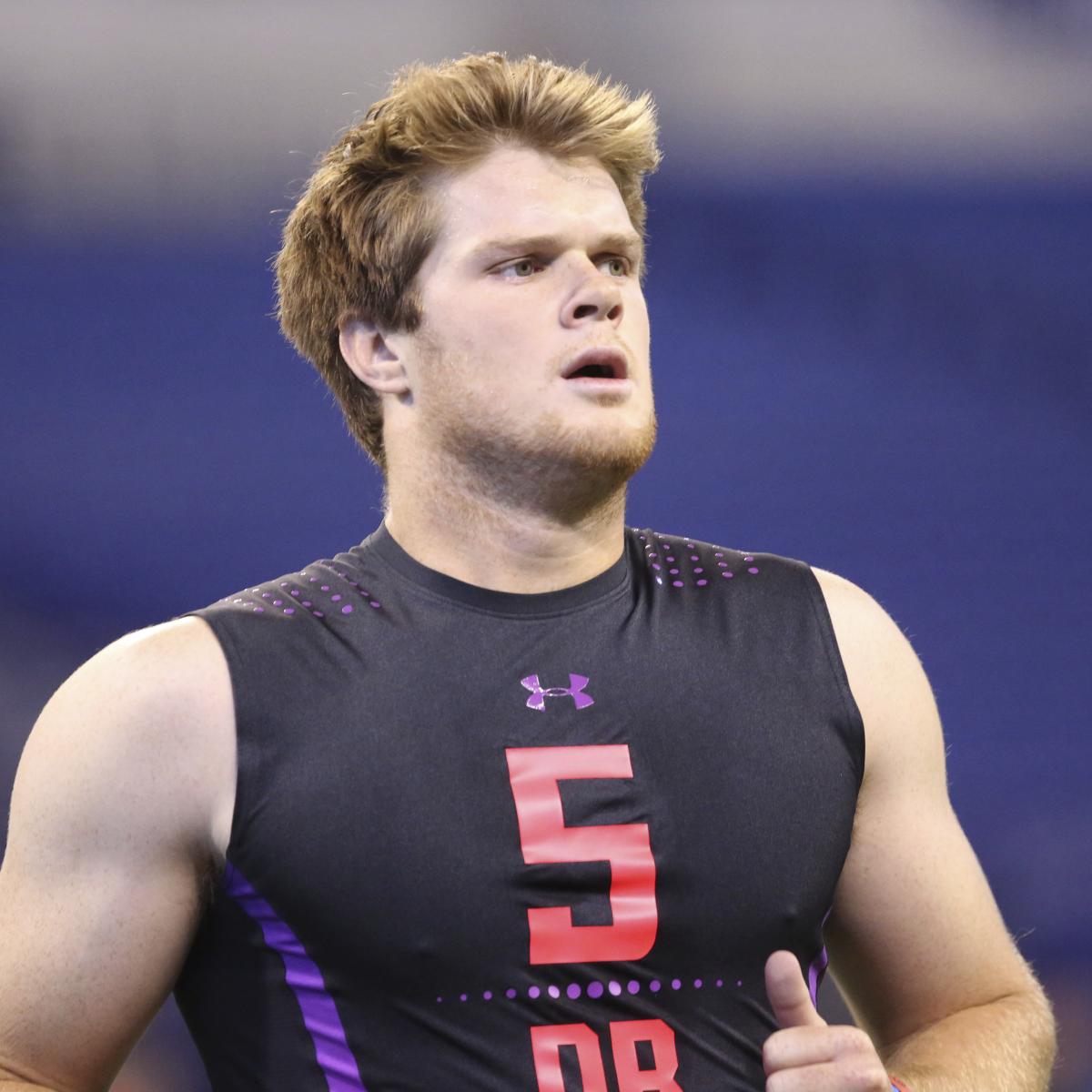 One talent evaluator went as far as he could to roast poor Sammy claiming the following:
"Loopy motion. Bad face. Overrated."
Apparently this guy has never heard of Eli Manning. Two Super Bowls. Bad Face. Probably cuts his own hair. We've seen this story before. Darnold was anointed the next "Golden Boy" following his stellar freshman season at USC, in which he threw for 31 TD, 9 INT & averaged an impressive 8.4 YPA.
Darnold has excellent size for a Quarterback and has enough athleticism for the position – he ran for 332 yards and 7 TDs in college. Additionally, he has more than enough arm strength to check it down the field. He has shown a solid command of USC's offense, and understanding of NFL concepts, including play action and the run pass option. He has performed well while under pressure, especially in the red zone.
When making plays out of structure, Darnold's lower-body mechanics totally break down, leading him to jump around rather than shifting comfortably in the pocket. That can easily be corrected with coaching in training camp. Given how much we've heard about Darnold already, it's easy to forget he's just 20 years old… He doesn't turn 21 until June. In 2017, DeShone Kizer was the NFL's youngest QB, and he was 21 for eight months before he made his Week 1 start.
---
Josh Rosen
If you like your QBs traditional you really have one top option in this diverse, interesting class: Rosen. Playing for former NFL coach Jim Mora at UCLA, Rosen had a team around him that consistently underachieved, but he put more than enough on film to consider him a top prospect. He's just not "exciting" in the way a Lamar Jackson or Baker Mayfield is, which is why he may be getting talked about less. But he's a really good prospect, who has a lot of similarities to former MVP Matt Ryan.
The issue for Rosen is that his "standout" traits don't pop off the page in the way other top prospects benefit. Moreover, he has dealt with  injuries throughout his college football career, most notably two concussions in 2017 (costing him the bowl game) and throwing shoulder surgery in 2016, though the shoulder was not a problem in his junior season. The shoulder injury, however, robbed him of half of his sophomore season. Rosen threw just 10 TD to 5 INT in seven games as a sophomore, which hurt his hype after a true freshman season in which he threw 23 TD to 11 INT.
He rebounded by breaking some records at  UCLA. His Junior year, he posted 3756 yards with 26 TD and 10 INT, which also included a career-best 62.6% completion rate. Overall, Rosens' completion rate at UCLA was  60.9% a little low for someone who is considered to be a "polished" prospect. Those who don't like Rosen will probably point out some atrocious decisions and turnovers as part of that lower percentage, while those who do like him (us included) will contend he was trying too hard to make plays to make up for a really bad team around him, both at receiver and on the offensive line. He's not nearly as gifted as Sam Darnold or Mayfield at making plays out of structure (he ran for a negative 154 yards in college), while you can argue he was forced to make those plays more often because of his teammates. Rosen will also likely be polarizing in the interview room. He's a highly intelligent person who is not afraid to express his opinion, but some locker rooms may be a little hesitant to accept someone who seems a little brash. Personally, I think that's a crock, but it has to be noted.
In all, Rosen may have the highest floor of any QB in this class. If he stays on the field. He's got excellent footwork and clearly a strong mind for the position, with his physical skillset more than adequate.
---
|Running Back|
Saquon Barkley
The hype about Saquon is real.  He is the ideal type of back for the modern NFL, and he's the elite-level athlete to make highlight reels for years to come. Barkley absolutely blew up the Combine with his measurables. In the three years Barkley spent at Penn State, Barkley ran for 3873 yards and 43 TD, averaging 5.7 YPC. Another exciting attribute to Barkley's resume is his ability to catch the ball out of the backfield. In his college career, he posted 102/1195/8 receiving, which also includes 54/632/3 receiving as a junior in his final season. That yardage would have ranked him 6th among all NFL RBs in 2017… we very rarely see such accomplished receivers at his position in college, and on top of that, Barkley is an excellent pass protector as well.
Barkley is great out of the backfield on wheel and "Texas" routes, but he can also split out into the slot and out wide. He's a real dagger in the open. That's where Barkley's elite elusiveness and athleticism comes to life. He may be the most elusive back to enter the league since LeSean McCoy. Barkley has an explosive lower body, allowing him to shift his momentum quickly, while also occasionally hurdling over defenders. At Penn State, Barkley didn't have the best offensive line, especially as a junior, and it combined with his home-run tendencies resulted in some meager rushing stats on occasion. But again, Barkley's ability to make hay in the passing game is so, so crucial to his success.
Barkley's ceiling is insanely high. for fantasy as a player who potentially could reach the heights of prime Marshall Faulk. His floor? Likely Reggie Bush, a player who occasionally didn't really contribute as a runner, but was such an asset in the passing game. Barkley is an awesome kid with a great work ethic, so he will do his damnedest to reach that ridiculous ceiling. Recall, a rookie has led the NFL in rushing in two consecutive years (Ezekiel Elliott and Kareem Hunt), and a different rookie RB (Alvin Kamara) was the Offensive Rookie of the Year. It's an instant-impact position for fantasy, and Barkley is an instant-impact player.
---
Nick Chubb
A devastating knee injury defined Chubb's college career prior to the 2017 season, but a sick performance at the NFL Combine coupled with a healthy senior season have put him in the conversation with the best backs in this class. And there is no shame in that. Chubb burst onto the scene in 2014 as a suspension and later injury replacement for Todd Gurley, who went through a serious knee issue of his own.
As a freshman with the Dawgs, Chubb ran for 1547 yards an averaged 7.1 YPC, He was on his way to topping it in 2015 as a sophomore once Gurley left for the NFL, averaging an absurd 8.1 YPC through five games, but he suffered an atrocious knee injury with multiple ligaments damaged on the first carry of his sixth game. Chubb returned in time for his junior season, but averaged just 5.0 YPC, then 6.0 YPC as a senior, though he topped 1000 yards rushing in each season.
Chubb is built like a brick wall, with a compact, powerful frame. He's an instinctive downhill runner with excellent vision, perhaps the best vision at his position in the class. His feet are soft, and his motions are smooth. There is just no wasted motion with Chubb. He has incredible play strength, and a second gear that isn't quite as explosive as it was when he was freshman, but it could be coming back. Chubb isn't the "chess piece" type of player many see Michel as, but he's a serviceable receiver and an adequate blocker, so he can be a three-down NFL back. If Chubb can prove he's an asset on third downs, he could be a star in any scheme.
---
 Royce Freeman
A ridiculously productive back for the Ducks who surprisingly returned for his senior season in 2017, Freeman is kind of slipping through the cracks of this draft class because he doesn't really stand out in any area. In four years, Freeman ran for 5621 yards and 60 TD, adding 79/814/3 as a receiver. He topped 1300 yards rushing in all but one season – his 2016 junior campaign, when he battled through serious offensive line injuries. Freeman himself had knee and shoulder problems, and that may be where a team starts to pick him apart. Indeed, his 46 starts at the position would be the most of any RB drafted over the last 10 years, so there is a lot of mileage on his engine.
One of my favorite plays that highlights some of his natural abilities comes from the home game against Arizona. Just when the running lanes were closing and the pocket was about to collapse, he uses his elite vision and size to create 5 yards on what could have easily been a loss. He is shifty with very quick movements once he finds an open lane. Might be scheme dependent with a zone running scheme but I can see him easily putting up Alfred Morris esque production if he gets early playing time in a zone scheme.
Overall, Freeman is a big, stout kid who exhibits some power in the short area. But his vision can get a little shaky, leaving some big plays out there on the field (those who like Freeman a lot will say this shows patience, so it's an "eye of the beholder" type of thing). He's a capable receiver, but is mediocre as a pass protector. He timed pretty well for his size, but it just didn't translate on film. Freeman is a guy who has plenty of natural ability and clearly knows how to play the game.
---
 |Wide Receiver|
Calvin Ridley
Ridley best collegiate season came as a freshman in 2015 when he posted 89/1045/7 receiving after arriving at Alabama as the nation's top WR recruit. His 1045 receiving yards set a new Alabama freshman record held previously by Amari Cooper. He still put up good numbers the last two years (135/1736/12) when you consider he played with a run-heavy/limited passer at QB (Jalen Hurts). His 967 receiving yards looks more impressive when you consider no other Bama receiver topped 265 yards. He finished second in Alabama career receptions (224) and receiving TDs (19) to Cooper.
A big knock against Ridley is his advanced age for a prospect; he turned 23 years old last December. Ridley needs to get stronger and to fill out his frame more, as he can get thrown off by physical coverage. Ridley had a bizarre Combine. He ran a strong 4.43 in the 40-yard dash but topped out at just 31 inches in the vertical. Ridley has more red flags than most top WR prospects in recent memory, but there's still a lot to like about him. You can't teach his ability to create separation, which gives him a chance to be special. He has effortless speed at all levels off the field and he has advanced route-running ability to easily create space from defenders. He has some Reggie Wayne in him based on his size and his ability to create space, and he's an absolute technician as a route runner. Ridley created big plays with relative ease, even against tough SEC competition in college. His speed and elusiveness make him very dangerous after the catch, and he does a good job extending plays in scramble situations. He isn't built like a traditional #1 WR, but his separation skills should translate to the next level. Ridley has a pretty high floor right away and has the chance to develop into WR3 as a rookie.
---
Courtland Sutton
Sutton could've jumped to the NFL after his redshirt sophomore season (76/1246/10 receiving), but he stuck around and put together another strong campaign in 2017 (68/1085/12). He accounted for 37% of the Mustangs' offensive output last season. He finished his SMU career with the second-most TD receptions (31) and receiving yards (3220). Sutton actually came to SMU as a three-star tight end/safety recruit before he was moved to WR. He missed most of 2014 with an undisclosed injury, receiving a medical redshirt. He also dabbled with the nationally-ranked SMU basketball team early in his college career before devoting himself to football full time.
Sutton has arguably the highest ceiling in this year's WR class because of his size and athleticism.  He uses his basketball background on the football field, using his big frame to his advantage against smaller defenders, especially down in the red zone. He also has a huge catch radius with his length, and he competes at the catch point. Sutton is a big, physical player who won't go down without a fight and he uses his size as a blocker. There are questions about his ability to separate with quickness and speed, and there are concerns about his overall explosiveness – he doesn't make enough defenders miss in the open field. However, Sutton impressed at the Combine with a 4.55 40-time, which is cooking for his size, and he ranked near the top of the class in the agility drills. Sutton has the size and tools to become a big-time receiver, and he could make an immediate fantasy impact if he's a factor in the red zone as a rookie.
---
D.J. Moore
Moore is coming off Big Ten Receiver of Year recognition after posting a school-best 80 catches for 1033 yards and 8 TDs in 2017. He finished his career with 146/2027/17 receiving in three seasons, including a whopping 11 TD catches on just 41 catches in 2016. He started 35 straight games to end his career after coming off the bench in his first two games as a true freshman. Moore had tremendous success despite having caught passes from EIGHT different QBs in his three-year career.
Moore has been called a bigger version of Stefon Diggs, largely due to his short-area quickness and his ability after the catch. He checks in at exactly six-feet tall, but he has a much thicker frame and more power than Diggs. Moore  also has a much better reputation coming into the league for being a hard worker – Diggs had discipline issues leaving Maryland. Moore is  a slippery fish after the catch, and he also isn't afraid lower his shoulder for extra yardage. He is arguably the best YAC receiver in this year's class. D.J. is a good route runner because of his quick feet, and makes in air adjustments to bring in tough catches. He did work on the outside quite a bit in college, and its possible he'll be asked to play out of the slot as well. Moore then tore it up at the Combine, ranking as 97th-percentile SPARQ athlete because of his
4.42 40-time, a 39.5-inch vertical, and an 11-foot broad jump at 210 pounds. Moore has a smaller catch radius and didn't win out enough in contested-catch situations. He wasn't a consistent downfield threat and had fits of inconsistent play at times, which could be a function of the terrible QB play at Maryland. He doesn't have ideal size for a top outside WR, but his strength and speed should make up for it, and he'd have even more PPR value if he gets time in the slot.
---
|Tight End|
Dallas Goedert
Goedert came into the 2018 draft with the typical concerns for a small-school player; however, he dominated his level of competition. He may have played at a FCS school (South Dakota State) but there's no denying his ridiculous production the last two years. He topped 70+ catches and 1000+ yards in each of his last two seasons, combining for 164/2404/18 receiving in 2016 – 2017. His play earned him
All-American honors and made a finalist for the Walter Payton Award given to the best player in the FCS. Goedert did some of his best work against his toughest opponents. He went for 7/116/1 in his biggest matchup of 2017 against perennial power North Dakota State, and as a junior he posted 5/96/1 against TCU.
The Jackrabbits used him all over the formation, lining up inline, out wide, and in the slot. He has ideal size for the position, using his high school basketball background to dominate smaller defensive backs. He also has the athleticism to make it tough when linebackers are on him in coverage. Goedert can make plays at all levels of the field, and he can get down the seam in a hurry to make chunk plays. His versatility and playing style have made Zach Ertz a popular comp for Goedert. He has strong hands to make some difficult catches, and he creates yardage after the catch, averaging 8.2 yards after the catch per reception (according to PFF).
Goedert has good body control and outstanding ball skills, snatching passes away from his frame with his 34-inch long arms, which makes him dangerous in the red zone. He has the ability and size to block inline right away, which is huge for any TE coming into the league. He led the position in the bench press at the Combine with 23 reps. He's a serviceable blocker capable of playing all three downs early in his career. Critics say that he needs to become a better route runner. He comes into the league as an older prospect having spent five years in college. The biggest question with Goedert is if he'll be able to block and if he'll be able to separate against much better athletes compared to the FCS level. If there's a silver lining it's that Goedert's 80-inch wingspan is likely to be utilized in the red zone early and often in his career. So much so, he could eek out enough fantasy valuable to be used in daily formats in plus matchups. If he can make a quick transition against the much tougher competition, Goedert has the best chance of being a fantasy-relevant TE as a rookie.
---
Hayden Hurst
Hurst will be looking to crack the big leagues for the second time after a failed attempt in professional baseball. If not for his age (25 in August), Hurst would likely be at the head of this year's TE class. He took a few years to pursue a career as a pitcher/first baseman in the Pittsburgh Pirates organization – he was a 17th-round pick – before returning to the gridiron and walking on with the Gamecocks. He set school records for the position in just his second season in 2016 with 46 catches and 616 yards. He also earned first-team All-SEC honors last season after posting 44/559/2 receiving.
Hurst has only been playing tight end for just a few years, and he doesn't have nearly the same upside as some of the other TE prospects because of his age. Hurst dominated much younger athletes in college, but scouts scouts were concerned that his abilities are already maxed out heading into the league. The flip side is that he had a ton missed opportunities – he scored just 3 TDs – because of poor QB, so he never got to show his full upside. He plays like this is his last chance at a professional sports career, playing without fear and giving maximum effort after the catch. Hurst has a little Greg Olsen in him with his combination of size and athleticism to lineup all over the field and to make plays on all three levels, including as a downfield target. He has the speed and quickness to separate from defenders – he ran a
4.67 40-yard dash at the Combine – but he gives away some of his routes with tells. Hurst is a major threat down the seam. He's got solid hands and is a strong blocker, traits that will put him on the field immediately for the tight end hungry Ravens. We know Joe Flacco loves his tight ends, and Baltimore throws the ball as much or more than any other team in the league, so Hurst can be a fantasy asset throughout the season.
---
|Linebacker|
Roquan Smith
Smith earned the 2017 Butkus Award as college football's top linebacker, breaking out for a team-high 137 tackles, 14 Tackles For Loss and 6.5 sacks. An instinctive, explosive off-ball linebacker who plays with more power than his size suggests, Smith missed just one tackle in all of 2017 and has immense value on passing downs, where he excels as a pass rusher and allowed just 5.7 yards per catch when targeted in his career (PFF). Smith is a cross between Lavonte David and Deion Jones with sideline-to-sideline speed (4.51) and an omnipresent playing style. Smith could easily be this year's top rookie IDP overall. The eighth overall pick will start and play in sub-packages right away and is a legitimate IDP LB2 before ever playing a snap in the pros.
---
|Defensive Back|

Derwin James
The Chargers selected Florida State S Derwin James with the No. 17 overall pick in the 2018 NFL draft. James spent 2 full seasons starting at Florida State, losing 11 games to injury in 2016. He finished each of those complete seasons as THE top-graded safety in Pro Football Focus' charting. And the versatile defender added numbers to that: 175 total tackles across those seasons, 15 tackles for loss, 5.5 sacks, 3 INTs, and 15 passes defensed.
James missed all but two games as a 2016 sophomore due to a lateral meniscus tear in his left knee, then rebounded for second-team All-America honors as a 2017 junior with a team-high 49 solo tackles (5.5 TFLs), 13 pass breakups, three sacks, and two INTs. PFF recognizes James as a remarkable talent a. He destroyed the Combine, blazing a 4.47 with freaky 40″ vertical  and an 11' borad jump. This guy can fly. Highly athletic with long arms (33″), James can match up to tight ends in man coverage and profiles similarly to Eric Berry.
---
|Defensive Line|
Marcus Davenport
Many spectators, myself included, believed the Saints were leaping up from 27th to 14th for QB Lamar Jackson. Nope. Instead they made Davenport look like the clear #2 pass rusher in this draft. And the next EDGE player didn't go until Harold Landry with the 9th pick of Round 2. Davenport posted the EDGE class' #3 speed score. That followed 15 sacks and 27.5 tackles for loss over his final 2 seasons. He'll likely need more development time than Chub after playing in Conference-USA, but Davenport's tape is more fun to watch than Harold Landry's.
Marcus Davenport played at a small school with seemingly lower competition. But so did guys like DeMarcus Ware and Khalil Mack. Some people will not be able to get over that fact, but all the attributes are there on display every single game no matter the competition. Davenport is an athletic freak who tore up Conference USA. He's still a bit of a project but offers huge upside as a pass rusher.
---
|Conclusion|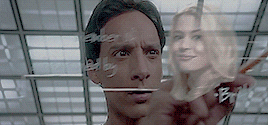 Having evaluated these 14 prospects, I can say we're in for a real treat this year. There's always the possibility of some unknown, from this years class, to breakout as a result of a next man up situation. Training camps are right around the corner, so keep your ear to the streets. The jury is still out on some players mentioned in last years analysis, so don't sleep on them just yet. In the meantime I hope you enjoyed this analysis, and I look forward to toe to toe with everyone this season!